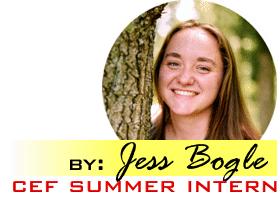 #cefjacksontn – For our third week of ministry, we had our most hectic week. Several curveballs were thrown at us, but we made it through the week, and children still heard the gospel.
Every day, our first site was a day care. These kids were so excited to see us each morning. They clapped and cheered when we walked in, and the workers greeted us with smiles. With over 30 kids in the room and several adults, we made our way through the program each day. It was often hard to stay on track because of their young ages, but there were a few pairs of eyes that were always looking as we taught. Some of those kids had better attention spans than some college students I know. They are young, but no one is ever too young to hear the good news of how much the Lord loves them.
By the end of the week, this was the only location we were still in. Our second and third locations were unknowns every day. We just had to trust that kids would show up in the neighborhoods we went to, and they never did at our second location for the day. On our last two days, we were locked out of the room we had permission to be in. Since we were unable to try to have our club, we decided to canvas our neighborhoods for the following week.
The first day we were locked out, we did the easy work. We drove around just to scope it out and plan where we would set up the clubs. We met some of the people in charge and gained permission to hand out flyers over the weekend.
After lunch each day, we went to our third and final location of the week. The first day, we had a few kids show up. It was hard to get kids to want to sit through the heat, but our friends from Covenant Presbyterian Church braved the heat, bringing ice pops and cold drinks for the kids. Unfortunately, there had been a miscommunication, and we ended up not being able to do the program there our last two days.
Our third week was full of flexibility and disappointments, but our first group still heard the gospel. The kids and adults in that crowded room were reminded of God's love for them, and they reminded us that we are doing a good thing for the kingdom of God. We could have walked away from that week with discouragement, but, instead, we walked away with a large, homemade card with the names of the kids we had the privilege of teaching each morning.
—