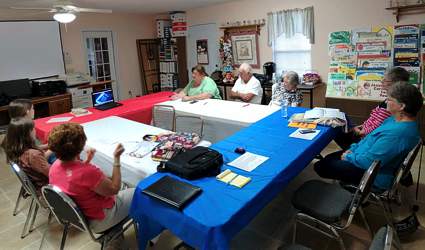 We could not carry out our ministry without the help of dedicated volunteers. We are truly thankful for them all and give God the glory for sending them to us. Maybe you are considering becoming a CEF volunteer? Maybe you are wondering what steps you must take to serve alongside of us? Let's touch on a few things to help you understand what is involved.
First of all, volunteering with CEF could mean that you will be working in a Good News Club, a 5-Day Club, Christmas Across America, CYIA, or other ministry activity. We even have some dear friends who come to our office to assist with large promotional mailings, event preparation, etc. They do this on an "as needed" basis.
If you will be working directly with children, we will do the following:
We will consult with you about the particular ministry that you are interested in to be sure you understand what is involved.
We will perform a CEF approved background check. Typically, there is no cost to you for this because we or your church sponsor will pay for it.
We will train you to work in the volunteer position that you are interested in.
We will provide most of the materials, game ideas, and other organizational tools to help you be successful in teaching and evangelizing children.
We will provide accountability and oversight for all official CEF clubs and activities.
Specifically about Background Checks
We conduct a background check on any CEF volunteer who works with children. This is essential in protecting both the children and our volunteers. CEF maintains a high level of commitment to protect the dear children that God allows us to minister to and we are certain that you agree with us that this is of utmost importance. As mentioned before, we or your sponsoring church will absorb the cost associated with the screening process.
Relevant Links