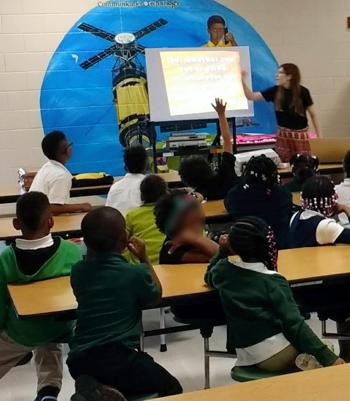 #cefjacksontn – This story is about John*. He is a young boy who attends a Good News Club® in Jackson, TN. For several weeks he had been listening intently to our Bible stories (lessons) about the early church. He often had questions for us about different parts of the lesson and on this specific day, he asked our main teacher about how he could become part of God's family. She asked him a few questions to determine if he was really ready to make a decision for Christ and helped him through the process of praying to accept Jesus as Savior. I was in a different part of the room, praying with a group of children about their worries and fears, their sick family members, and other things that they were dealing with at the time. 
As I was finishing the prayer time, John came up to me and said that he needed to tell me something. I asked him what it was and he said that he had prayed to ask Jesus to take away his sins and come into his life. So, let me give a little commentary here… often, we ask the children if they have any questions about the Bible lesson or would like for us to pray with them about anything. John had been struggling for a while about what it meant to be saved, to be a member of God's family. We never coerce or manipulate a child. We do answer their questions honestly from a Christian perspective.
Now, back to young John. I asked him a few questions to attempt to gauge whether he understood the elements of the salvation process. I believe he did, so I told him that if he was really serious in his prayer, asking Jesus to forgive him and come into his life, that I was his brother now! We were both part of God's family. At that, his eyes brighten and he shouted "I'm a Christian!" I said "YES" and we prayed together, allowing me the opportunity to thank God for his decision. 
This is just one example of how young children can absorb the scripture and come to a place where they want to accept Jesus as their Savior. It's a beautiful thing. Amen!
—
GNC Glory Story
Randy Nicholas
* NOTE: that the child's name is not actually John. Unless we have specific written approval by a parent or legal guardian, we do not identify a child by his or her name to preserve their family's confidentiality.