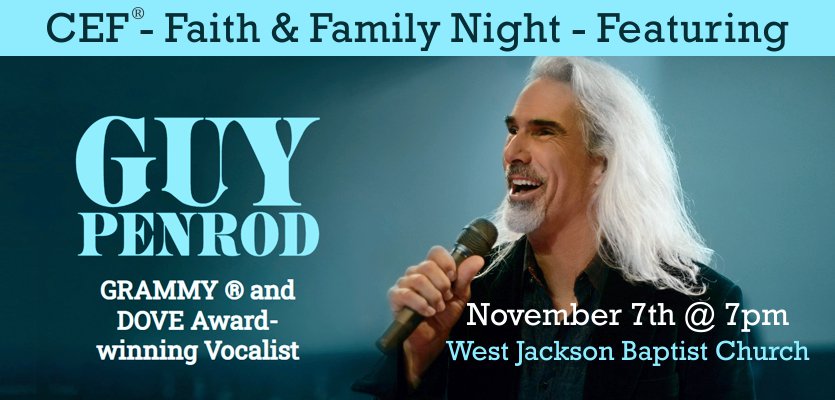 #cefjacksontn – CEF of Greater Jackson is proud to present a powerful Spirit filled event that will happen on Monday, November 7th @ 7pm at West Jackson Baptist Church in Jackson, TN. The church is located at 580 Oil Well Rd., Jackson, TN 38305. Guy Penrod will provide the talent. He sang for many years as a part of the Gaither Vocal Band (Bill Gaither). 
IMPORTANT POINTS ABOUT THIS EVENT
Doors open at 6:00pm and the event / concert starts at 7:00pm. 
This is a FREE event. All are welcome to attend. Bring a church group, seniors, Sunday School, etc.
The concert will be in the church sanctuary which can hold over 1000 people. (first come, first served)
The Emcee for the evening will be our friend, Dr. Jerry Drace with Hope for the Home Ministries.
Even though there is no charge to attend, donations will be accepted that night in lieu of ticket cost. We ask you to prayerfully hear our ministry story and make a heartfelt donation. It will help us reach more children with the Good News of the Gospel of Jesus Christ in Jackson and Central West Tennessee.
Would you consider becoming an event sponsor? Please contact our office at 731-736-2786 for more details. Thanks!!!
---
Click this link to see a video about our ministry to the boys and girls of Jackson and Central West Tennessee.
---
Check out this video by Guy as he sings "Revelation Song" which can be found publicly on the Gaither Music TV YouTube channel. Naturally, there are many other videos of Guy in that same channel and his own specific YouTube channel. See the links below.

ABOUT GUY PENROD
The following information is an excerpt from Guy's website:
GRAMMY ® and DOVE Award-winning artist Guy Penrod is an amazing vocalist to be sure.
But Guy is not just a singer, he's a personality.
By appearance alone, Guy has a signature look that is recognized around the world. From hair to height, belt buckle to boots, piercing eyes to engaging grin, Guy is a presence that is easily recognized. Beyond that, there is substance behind the style, because Penrod's authenticity causes people to listen to what he has to say. Guy's rasp-tinged country style vocals and experience on stage over the years, have given him the ability to be relaxed and confident in every setting. He has a stage presence that few can pull off. 
In addition, the music industry reflects Guy's popularity. His DVD release, The Best of Guy Penrod , was certified platinum by the RIAA, a claim few can match in any genre. The Best of Guy Penrod highlights some of Guy's musical history while escorting the viewer into the home and farm of Guy, Angie and their children. Living the country life and being a family man (father to 7 sons and 1 daughter) are a significant part of the personality that is Guy Penrod.
Guy's solo career began in August 2009, when he released his debut solo album, Breathe Deep , on the Servant Records label. Produced by veteran country music producer and studio musician Brent Rowan, the album consists of positive country music with Christian undertones.
Guy, an inductee into the Gospel Music Hall of Fame, hosts for the sixth year, DayStar Television's Emmy Award-winning "Gospel Music Showcase" program. Guy's combined career sales are now in excess of 4 million units and he is followed on Facebook by over 300,000 people. Penrod and his wife Angie were recently guests on Life Today with James Robison. He is a repeat guest at The Grand Ole Opry.
You can see the whole bio by going here.
RELEVANT LINKS