[siteorigin_widget class="SiteOrigin_Widget_Image_Widget"][/siteorigin_widget]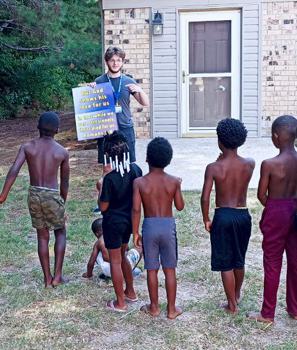 What is CYIA™?
Christian Youth in Action® is exactly what it sounds like – Christian youth actively involved in making a difference in the lives of America's 50 million unchurched children! CYIA is a program designed to train you, and a team of other young people, in effective and engaging ways to teach children about God. Every year, two thirds of all children under the age of 14 never attend church or Sunday School. You really can make a difference in the lives of these children by serving as a CYIA summer missionary with Child Evangelism Fellowship® to lead and teach 5-Day Clubs.
Who is CEF?
Child Evangelism Fellowship is a Bible-centered organization composed of born-again believers whose purpose is to evangelize boys and girls with the Gospel of the Lord Jesus Christ and to establish (disciple) them in the Word of God and in a local church for Christian living. In 2018, CEF reached over 25 million children with the gospel in almost every country in the world through its various programs and materials. You can find out more about CEF by exploring this website further.
What are 5-Day Clubs?
For 5 consecutive days, 60-90 minutes each day, children gather in various places around the community to hear dynamic Bible lessons, sing songs, learn Bible verses, listen to missionary stories, and hear the Gospel clearly presented. Clubs can be held in churches, in parks, in community centers, or other safe locations.
How does it work?
Your summer ministry begins with a week of training at Camp Dogwood Lodge in Soddy Daisy, TN with other youth from West Tennessee. Young people, ages 13 through early college, attend this training and learn how to share the gospel using the Wordless Book. Summer missionaries are also trained to teach Bible lessons, memory verses, missionary stories, songs, and games. It really is meaningful – and a lot of fun too!
After returning home, you will put this training to good use. You will work with your team to lead 5-Day Clubs for a few weeks in your local area. Typically, clubs take place for 4 – 5 weeks after returning from training. The exact number of weeks that you serve and number of clubs per week will vary based upon how your team comes together, your availability, and the availability of ministry locations where you live.
Who can be a Summer Missionary?
If you are a Christian, have a heart for ministry, and want to team up with other young people to reach the children in your community, then CYIA is for YOU!
Here are the basic requirements:
be age 13 through early college
be a Christian (saved)
have a desire to work with children
raise financial support to cover training and materials (We will help you with this process!)
complete the CYIA application
be approved by your local CEF office
complete local and state CYIA training
Why make this commitment?
The children you minister to aren't the only ones impacted. Your life will be changed too!
You'll:
have opportunities to make an eternal impact on the lives of children in your community
make new friends from all over the state of Tennessee who love to serve the Lord
learn to teach God's Word and share the Gospel
grow your self-confidence, gain team-working and communication skills
gain valuable service experience to use in your own church, school, or future job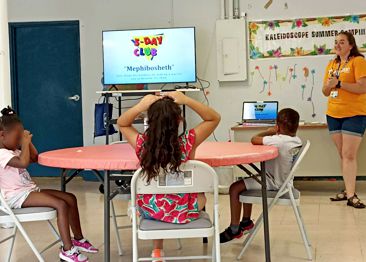 Cost and dates of training camp?
The cost is $200 and covers lodging, meals, CYIA ministry materials, and training materials. The camp will be May 28 – June 2, 2023 at Camp Rain in Decherd, TN. The address is 626 Bennett Cemetery Rd, Decherd, TN 37324. Remember, we can guide you in raising the money if needed. Parent, this is an investment in the spiritual growth of your student.
Dear parents, please be aware that CEF directors, coordinators, and other staffers will lead the training at Camp Rain in Decherd. We will be with them the whole week and encourage them each step of the way.
VERY IMPORTANT NOTE:  Hey parents and students… we may have a few spots open for those who cannot go to the training camp, but would like to assist a team and get their feet wet, so to speak, with our summer ministry program. So, if your student is in that situation, reach out to us, and we'll talk about it.
If you have any questions about CYIA, training camp, or our summer ministry program in general, please contact our Executive Director, Randy Nicholas through our contact form here or a call to our office at 731-736-2786. Thanks!