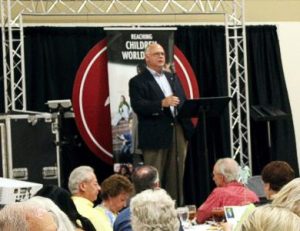 Please use the form below to send us speaker requests. Maybe your senior group at church would enjoy hearing about our ministry? Do you have a "Missions Day" approaching where you could use a speaker who has experienced local and international missions? Our Ministry Coordinator, Randy Nicholas, would love to come and visit your church, Sunday school class, or small group to share about the mission and ministry of CEF. Note that elements of the form with a red asterisk are required. Also, be sure to give us a contact telephone number if you would like for us to call you. Thanks!
Here are a few points to consider:
We do not charge for speaking engagements. If your church or group is willing to receive a "love offering" for CEF of Greater Jackson, that would be a huge blessing for us, but it is not required.
We serve the general area of Western Tennessee, with Jackson as our base. We can travel to and speak at locations in this area, but if your request takes us out of our service area (especially out of state), we would sincerely appreciate your covering travel expenses. Regardless, we will do our best to work things out with you.
Randy is a former missionary to Eastern Europe and he is happy to speak to a broader perspective if that is good for your setting. CEF is a global ministry too, by the way.
Depending on the type of speaking engagement, Randy will sometimes sing a song or two as part of his presentation. This is not required, but if your group might enjoy it, just let him know.
---
[caldera_form id="CF5cb24df440f75″]